Why shop anywhere else when we have the best deals around?
With the best prices guaranteed together with our desire to help you shop with confidence, Harvey Norman offers customers a shopping experience like no other.
How do we help you shop with confidence?
We at Harvey Norman understand that many shoppers experience some form of buyers' remorse. This happens when shoppers change their minds after their purchase, when they worry about breakdowns or when they find that the same item purchased is cheaper at another store.

This is why we allow you to exchange your items, reserve an item for 7 days, get a price guarantee and more! Now you can definitely shop with confidence and at the same time get the best deals from us.
---
The Fine Print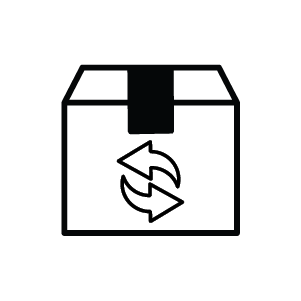 Get It Exchanged
You can exchange the item within 14 days of purchase
Product has to be in brand new condition, complete with its original box or packaging, associated accessories and guarantee card. Free gifts, vouchers and accessories associated with the purchase must also be returned. Please bring your original purchase receipt.
Apple products, smartphones, tablets, software, toners, ink cartridges, games, gaming consoles, headphones, in-ear headsets, earbuds and consumables such as coffee capsules have to be returned unopened.
One exchange is allowed per purchase. The exchanged product will not be eligible for further exchange or refund unless faulty.
Exclusion, the following products are not exchangeable once used:

All electrical, I.T., home & kitchen appliances, digital cameras, accessories, air-con (once installed), TV (once wall mounted), personal care products.
The following products are not exchangeable: Display sets, made-to-order/custom made, special order items, bed linen/mattresses/beds/divans, assembled furniture and product keys that have been issued for Electronic Software Delivery
Refund
Refund will be given in the same mode of payment that was used in the original purchase.
Refund excludes delivery charges if delivery has taken place.
Cancellation/refund is not applicable to special orders, customized items.
Display sets are not refundable.
Conditions pertaining to exchange are applicable.
Price Guarantee
We will match the lower price + top up 10% of the price difference within 10 days of your purchase.
Covers all genuine advertised and in-store prices of major chain stores only (includes online sites of brick-and-mortar chain stores locally).
Price match does not include trade/road show prices, display sets and limited sets deals, opening/anniversary specials, purchase with purchase and package deals.
Please provide necessary proof.
Get It Reserved
We will hold stock for you at a specific price for 7 days. May exclude hot selling items.
A holding deposit of 15% of retail price is applicable. Deposit will be refunded if you do not wish to proceed with the purchase.
Deposit must be paid in cash, credit card, or Harvey Norman voucher.
Get It Delivered Today
Same-Day Delivery
Purchases have to be done by 2PM (stocks have to be available at the warehouse).
Within Klang Valley only (not applicable to condo and/or area with restricted delivery hours).
Same-day delivery can be arranged with the stores. An additional fee will be incurred.
May not be applicable to selected furniture and bedding products.
Applicable for in store purchases only.
Disposal
For disposal of old items, requests have to be made at the point of purchase. Disposable is applicable for like-for-like item.
Installation Services
Provide basic air-con installation (to be discuss with the sale team upon purchase).
Provide basic furniture/bedding installation (does not include wall drilling service).
Provide basic installation services for electrical items.